Phyllis Kahn Retirement Party!
Phyllis available to give
"Oberlin Talk"
Phyllis has been asked to speak around the country on the need to get more scientists involved in politics. Read more...
Working Together For a Progressive Community
Phyllis actively continues her love of work on Environmental Issues and Women's Athletics.
Read about her Legacy of Experience.
About Phyllis
Listening / Helping All of Us.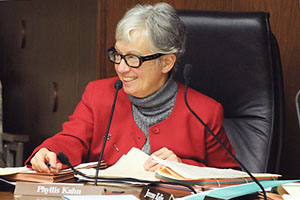 Chairing House Committee
Participate in Democracy--Vote!
Your participation in elections strengthens the democratic process.
Voter Resources: Register to vote online, find where you vote, request an absentee ballot and other voter resources.
---